About Us
From the simple to the technical, our professional team of trained arborists get the job done.  We undertake the full range of arboricultural services on a wide range of commercial, residential and public sector projects.
Here at Coastal Tree Care, we pride ourselves on supplying customers with fair, open and honest advice.  Our arborists undertake a wide range of arboricultural services (often referred to as tree surgery).   All work conforms to British Standards 3998:2010 (Tree Work – Recommendations).
The majority of our work is in the Dorset area, but we do work further afield for some of our corporate clients on larger projects.
OUR PASSION
Dale Culbreth at Coastal Tree Care has a very simple business philosophy. We set high standards, and aim to consistently surpass them. We want your business, and we want you to recommend us to all of your friends and family. Simple!
TREE CARE SERVICES – 8 YEARS
GARDEN MAINTENANCE – 15 YEARS
SPECIALIST BAMBOO SUPPLIER – 15 YEARS
FENCING & DECKING – 15 YEARS
The chart above illustrates our main areas of expertise, with length of service to clients. We pride ourselves on our exceptional Customer satisfaction record Check our latest reviews here.
Prior to all work an in-depth risk assessment is carried out. Our comprehensive Health and Safety policy safeguards our staff, the public, our clients' interests and the environment.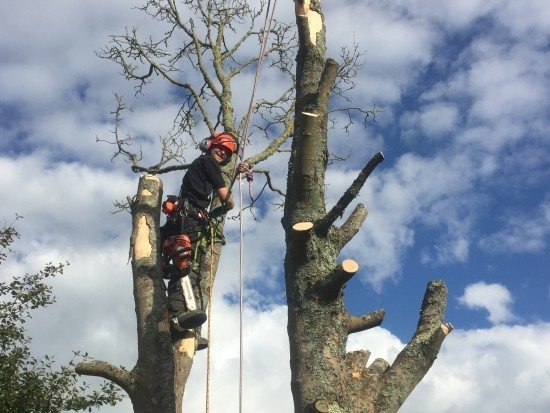 "TOPPING AND LOPPING !!!"
We will politely decline to carry out work that would be detrimental to the health or structural integrity of trees.  Work such as 'topping' or 'lopping' is not recommended, and we will not do it!  We will always be happy to offer alternative, more appropriate courses of action.
ARBORICULTURE
From planting to felling, and everything in between.
We can carry out hedge trimming on all types and heights of hedges. All recognised forms of tree work undertaken – crown reduction, crown thinning, crown lifting, tree felling and stump grinding. If stump grinding is impractical, we are qualified to use chemical herbicides to prevent regrowth from the stump. All waste is disposed of according to the clients' wishes, and we hold an Environment Agency Waste Carriers' Licence.